Chem 4-D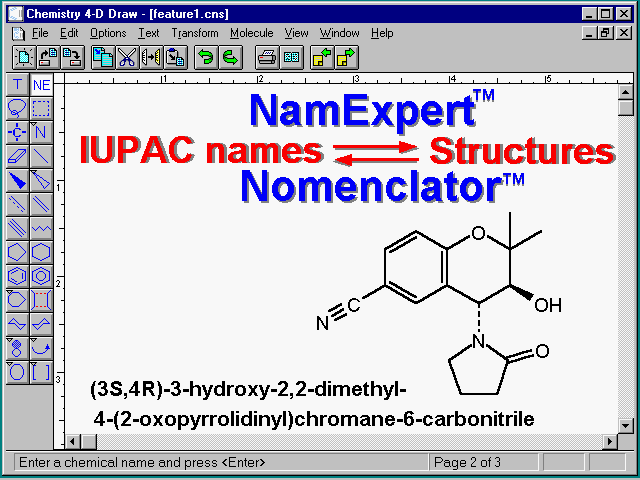 Chemistry 4-D Draw
Draw Chemical Structures Intelligently
Chemistry 4-D Draw is a next-generation chemistry program combining the most advanced technologies in structure drawing.
Chemistry 4-D Draw Modules
Chem4D Graph module that creates multi-line graphs of different styles. It supports non-linear and linear curve fitting, response curve fitting and data analysis

The program allows you to create high-quality structures simply by entering molecular names. It assigns systematic names to structures. It includes a full set of tools for drawing, text and structure editing, and labeling.
Features include:
interactive 3-D rotation
syntax checking
hot-key labeling
multi-step undo
and creating structure templates with user-defined trivial names.
Next-generation Drawing Program:
Advanced Drawing Tools, Easy to Use!
Chem4D Database Organizes structures and graphics
Nomenclator Assigns IUPAC Names to Structures
NamExpert Interprets Chemical Names
NEW Chem4D Graph creates multi-line graphs of different styles
NEW Assign Chirality
OLE-2 Technology Saves You Time!
Full Color and All Fonts!
Object Transformations-rotate, move, scale, flip, align!
Multipage Document!
Export MDL MOL Files, Graphic Files!
Internet-Ready Send/Receive Graphics via Regular E-mail!
Cross Platforms:
Windows 10/8/7/XP, Macintosh OS X